The Dr. Stan Epstein Respiratory Medicine Collection was gathered by its namesake to document his career and profession as a respirologist at the University of Toronto and local Toronto hospitals. It contains a variety of artifacts representing clinical and hospital respiratory medicine, as well as research and university teaching in that field.
The collection contains a number of commercial instruments, especially metered dose inhalers (MDI), "spacer"-type instruments used to prevent errors in the use of pressurized MDIs, and peak expiratory flow rate (PEFR) meters, used in assessing lung health. These instruments represent early clinical trials of respiratory technology conducted by Dr. Epstein and his colleagues, notably Dr. Michael T. Newhouse of McMaster University.
Dr. Epstein's collection illustrates how this early work, spanning the mid-1960s through the 1980s, developed into a flourishing medical industry with a strong presence in Southern Ontario. The collection also contains a number of artifacts related to other aspects of Dr. Epstein's career, academic lectures, and professional colleagues.
The collection was gathered over several visits to Dr. Epstein's home in February and March of 2019.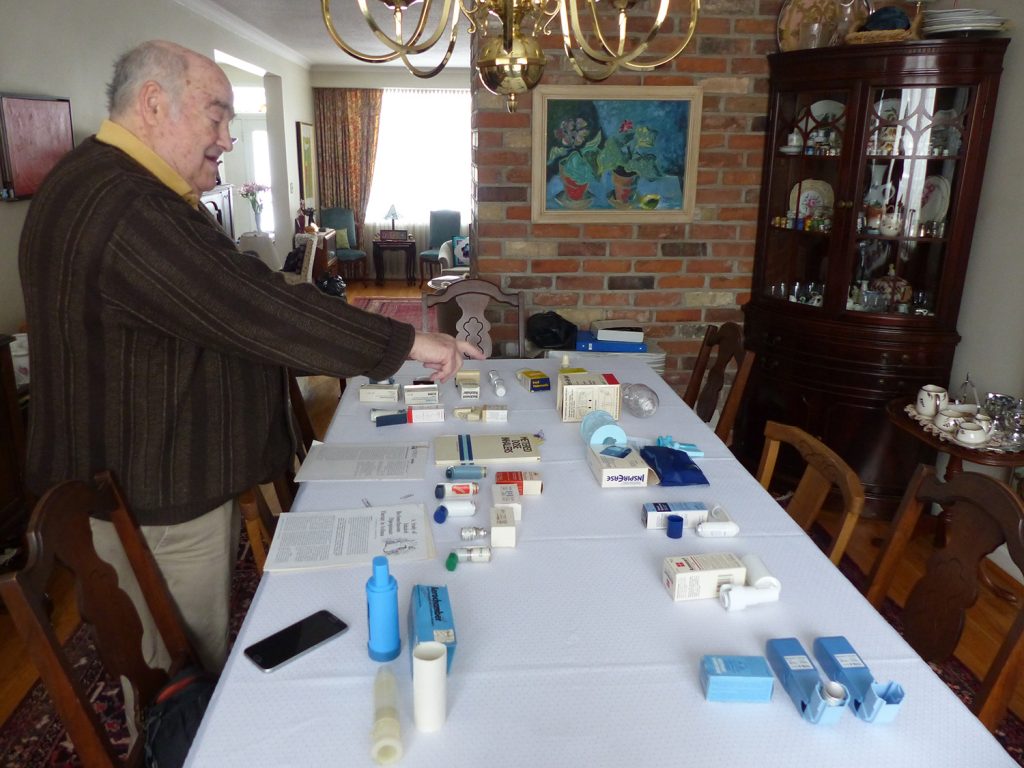 Background:
Dr. Stanley Epstein was born in December 2, 1937 in Sydney, Nova Scotia. He received his MD in 1962 from Dalhousie University, Halifax in Nova Scotia. Following an internship at Victoria General Hospital in Halifax, Dr. Epstein moved to Toronto for an internship at Sunnybrook hospital in 1962-63. Between 1963 and 1966, he worked as an assistant resident, first at Sunnybrook then at Toronto Western hospital. He also did postgraduate work in Hammersmith and Brompton hospitals in London, England.
Dr. Epstein spent much of his career practicing at Toronto Western and teaching at the University of Toronto. He also worked at a number of Toronto hospitals, has done clinical research in several settings, has worked with and led numerous professional organizations, and has served as an advisor to the Ontario Ministry of Health. He retired in 2003.
The Dr. Stan Epstein Respiratory Medicine Collection Includes:
Metered dose inhalers representing a range of types, including pressurized metered dose Inhalers (pMDI) and powder inhalers.
Spacer devices of several kinds used mainly to prevent patient errors in the use of pMDI devices. These notably include the prototype AeroChamber that was used in clinical trials that led to the subsequent commercial development of the spacer.
Instruments used to measure vital capacity. These items include an important peak flow meter and three types of spirometers representing different generations of that technology.
Other items associated with both clinical practice and teaching in the area of respiratory medicine, hospital care, and tuberculosis treatment.
Several items associated with Dr. Jack D. L. Fitzgerald, a prominent Toronto allergist and son of Dr. John G. Fitzgerald (1882-1940), who shepherded the development of biological medicine production in Toronto and oversaw the research that led to the discovery of insulin.