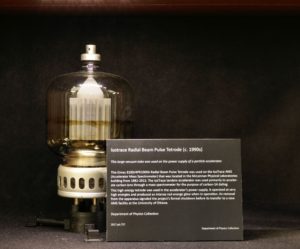 Note: During the pandemic, all university buildings are closed, including our exhibit. Please check back later!
UTSIC curates a public exhibit space on the University of Toronto down campus in Old Vic at Victoria College, 91 Charles Street West, Toronto. The exhibit is up dated regularly and includes many objects from our collection.
Our current exhibit, 'The Vitreous World', explores glass in its great variety of forms and functions through artefacts collected from this university, this city, or by the various communities that inhabit Turtle Island/North America. Gathering instruments and objects made of glass and using glass, from glass slides to high tech equipment, it examines the uses of this versatile, beautiful substance in science and as technology, in architecture, in ornament and imagery, and as manufactured material.
You can find 'The Vitreous World' on the third floor of Victoria College (91 Charles Street West, Toronto) until April 2020. The exhibit space is accessible through an elevator, which is accessed from the basement level via the ramp on the south-east corner of the building.
Open daily 10am-6pm. FREE.