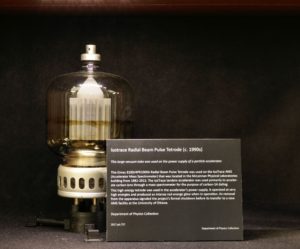 Currently, UTSIC does not have an exhibit space where we display artifacts. However, some artifacts are displayed by their host department in spaces accessible to either the public or members of the university. This includes the Coxeter Collection, visible outside of the Department of Mathematics.
We have previously held exhibits and hope to resume displaying artifacts soon.
In the meantime, you can browse our collection online through the catalogue. You can also occasionally catch us at events and sites around Toronto. If you are an interested researcher, a university instructor looking to bring artifacts into the classroom, or are a Toronto organisation interested in activities run by UTSIC (e.g. temporary displays or talks), please get in touch.

Previous UTSIC exhibits included 'The Vitreous World' (2018-2020), which explored glass in its great variety of forms and functions through artifacts collected from this university, this city, or by the various communities that inhabit Turtle Island/North America. Gathering instruments and objects made of glass and using glass, from glass slides to high tech equipment, it examined the uses of this versatile, beautiful substance in science and as technology, in architecture, in ornament and imagery, and as manufactured material.