The Yankauer Mask is an anaesthetic mask designed by Dr. Sydney Yankauer (1872-1932), an American laryngologist and prolific inventor of medical equipment. Its chrome-plated wire frame supports a tear-shaped mesh form. Gauze was draped over the frame and held in place using a spring. Ether would have been dropped onto the gauze by a trained health care provider in order to achieve the desired level of anaesthesia.
In the early twentieth century, before anaesthesiology became a specialty, interns and nurses often administered anaesthetics due to the limited availability of physicians.
The Yankauer Mask had a great impact in the medical field and became a standard medical tool after it was introduced around 1904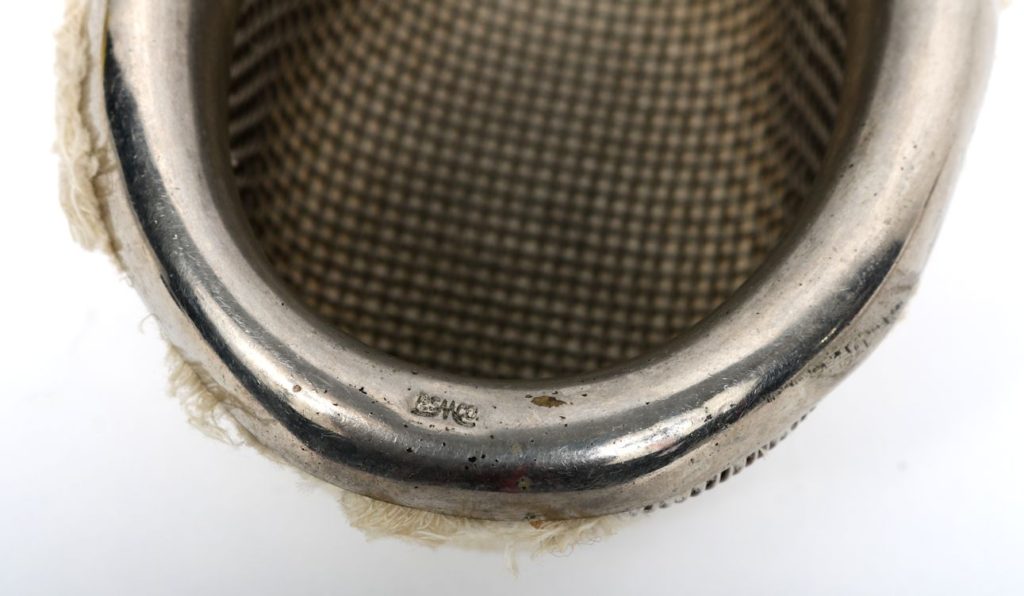 Collection:
The Yankauer Mask is a part of the Jean Kronberg Anaesthesia Collection at Women's College Hospital (WCH). Dr. Jean Kronberg has been an anaesthesiologist at WCH since 1989. Women's College Hospital is a center of excellence in ambulatory surgery and obstetrics, among other medical fields. Women's College Hospital became well known in Canada and abroad for revolution, research and teaching in obstetrical anaesthesia and pain relief.
Maker/ Inventor:
Sidney Yankauer was born in New York. Sidney was one of six siblings of German parents who immigrated to the United States from Bavaria in mid-nineteenth century. Sidney graduated from the city college of New York in 1890, and obtained his medical degree in 1893 from the college of physicians and surgeons in New York (a later part of Columbia University). Sidney did his internship at Mount Sinai Hospital and worked in the outpatient department of the department of surgery for a number of years. From the early 1900s he progressively focused in diseases of the ear, nose and throat (ENT) and was chosen as a first Associate Adjunct Laryngologist, then Associate Laryngologist and in 1917 he took charge of Laryngologist.
Dimensions: Height: 6 inches= 15.24cm, Width 3.5 inches= 8.89cm, Depth: 2.5 inches= 6.35cm
Materials: Canvas (gauze), Metal (Stainless steel)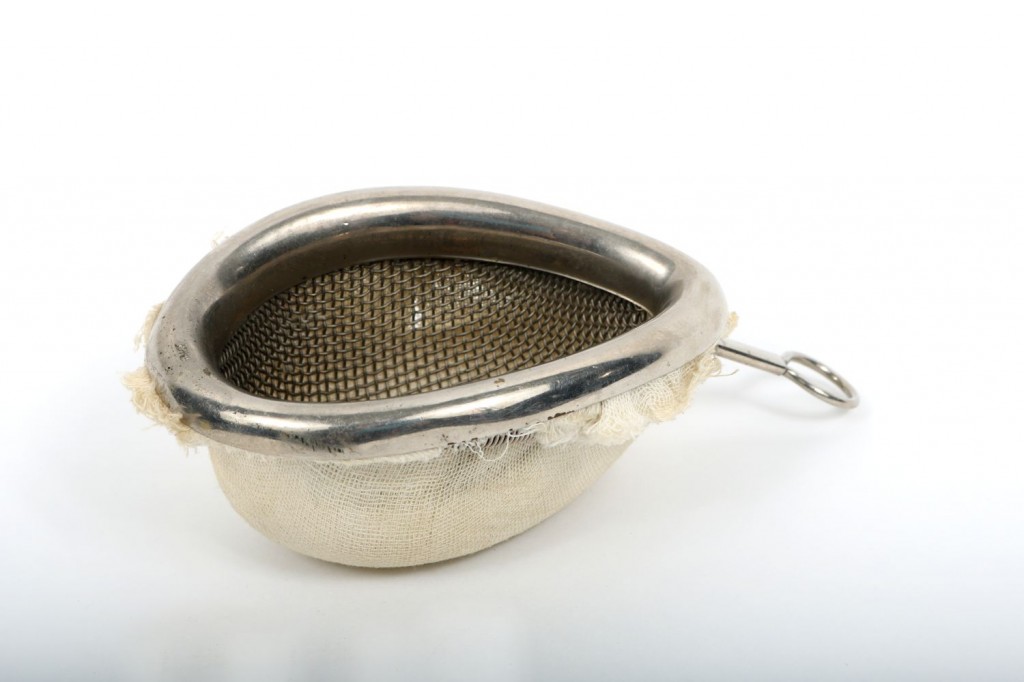 Background:
Throughout the history, a patient's pain management during an operation was and still one of the most important features that contribute to the surgery's' success. Western medicine relied on alcohol, opium, to deaden the pain for several years, until the 1840s. By mid the nineteenth century, safer substances such as nitrous oxide (laughing gas), ether, and chloroform, appeared. These substances were effective in reducing the pain for a longer period of time, which allowed for more complexity and precision. By that time, doctors administered these substances by folding a towel or napkin into a cone then dropped the chemical onto the cone and held it near the patient's nose so that the anaesthetic could be inhaled. This method had unpleasant side effects. For example, the chemical had the potential to burn the patient or cause skin irritation. This led to the Yankauer Mask invention, by Sidney Yankauer.
Form and Fabrication:
Yankauer Mask is made of canvas (gauze) and metal (stainless steel). Its chrome-plated wire frame supports in a tear-shaped mesh form. Gauze was draped over the frame and held in place using a spring.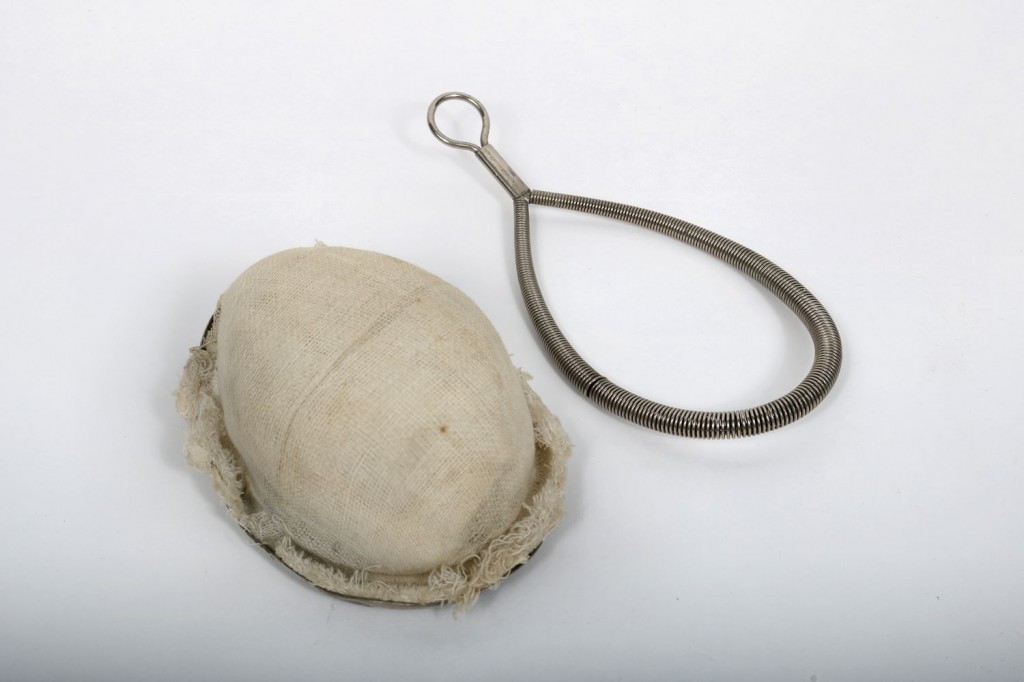 Provenance:
Woman's College Hospital owns the Yankauer Mask from the Kronberg collection. Initiating the WCH came as a rebuttal to the denial of medical schools in Toronto to allow women study medicine back in 1883. The College combined with its associated institution in Kingston, Ontario, and changed its name to the Ontario Medical College for Women In 1895.
References:
"The Wood Library-Museum." Wood Library Museum. [Accessed August 18, 2017.] https://www.woodlibrarymuseum.org/museum/item/60/yankauer-masks.
The Wood Library Museum of Anaesthesiology displays featured exhibit of anaesthesia history and its interactive timeline. The WLM explains a lot about Yankauer Masks such as, it shapes, material, origin, and inventor. This Museum served as one of the main sources for Yankauer Mask and anaesthesia's researchers.
Wildsmith, Tony. "History and development of local anaesthesia." Principles and Practice of Regional Anaesthesia, December 06, 2012, 73-75. doi:10.1093/med/9780199586691.003.0001.
This journal pursues to illustrate the history of Anaesthesia in details, and information about scientists who had contributed to the development of Anaesthesia tools throughout history. It also gives a bit of scientists' background and early life as well.
"Women's College Hospital – About the Department of Anesthesia." Women's College Hospital – Health Care for Women, Revolutionized. Accessed August 18, 2017. http://www.womenscollegehospital.ca/Education-and-Training/Anesthesia/about-department.
This article from the official website of the Women's College Hospital, seeks to describe a brief history of the starting point of the college and to acknowledge the efforts of women who had led the college to success until nowadays, as well as explaining the progression of the college throughout time especially in the department of anaesthesia.