Kohs Colored Cards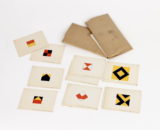 Accession Number: 2015.psy.158
Description:
Two sets of cards showing configurations for the Kohs block design test. The sealed paper envelope of one set was opened for cataloguing purposes. Each set contains 19 cards. Cards are 3″ x 4″.
Primary Materials: Paper, cardboard.
Markings:
Outside of envelope: " 1-CAT # 37000-B CARDS, COLORED KOHS."
Dimensions (cm):
Box: Height = .5, Width = 16, Length = 9
Manufacturer:
C. H. Stoelting Co. Chicago, Ill, U. S. A.
Date of Manufacture: Unknown
Provenance:
University of Toronto Psychology Collection.